How to See a City? Media, Data, Visualization
Guest Lecture by Lev Manovich
02.07.2019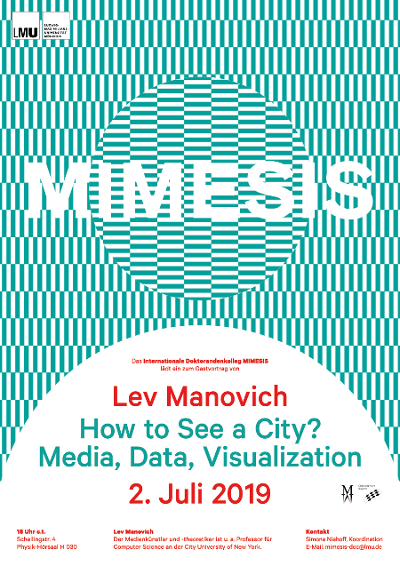 on Tuesday, July 2, 2019, 18:00 - 20:00, c.t.,
at H030, Schellingstraße 4, 80799 Munich
(Physics lecture hall)
19th and 20th century writers, painters, photographers, filmmakers and media artists have created many different methods to represent city life and the everyday. In the 21st century, designers and scientists explored the use of new types of urban data (social media posts, sensor networks, satellite imagery, etc.) and methods (machine learning, computer vision, interactive data visualization). In his lecture, Manovich will compare older and newer methods and discuss a number of important projects created in the last 15 years, as well as selected work by his Cultural Analytics lab.
He will also present his current project in progress "Elsewhere". The project goal is to create first detailed maps and timelines of many areas of contemporary culture worldwide, and then develop a new methodology for data-driven culture research.
Lev Manovich is one of the leading theorists of digital culture worldwide and a pioneer in application of data science for analysis of contemporary culture. Manovich is the author and editor of 13 books including AI Aesthetics (2018), Theories of Software Culture (2017), Instagram and Contemporary Image (2015-2016), Software Takes Command (2013), Soft Cinema: Navigating the Database (2005) and The Language of New Media (2001) which was described as "the most suggestive and broad ranging media history since Marshall McLuhan." Manovich is a Professor of Computer Science at The Graduate Center, City University of New York (CUNY), and a Director of the Cultural Analytics Lab that pioneered analysis of visual culture using computational methods.
Note: The title of this lecture has been changed. It was previously announced as "What Does Data Want?"
Please be advised that this lecture will be recorded to upload the video on the IPD MIMESIS website and on LMU on iTunes.
Further information:
http://manovich.net/