Michael Taussig: A Chameleon World
12.06.2018 18:00 – 22:00
Lecture on the 12th of June 2018, at 18:15, in the Physics Auditorium H 030, Schellingstr. 4
followed by a reception in the foyer.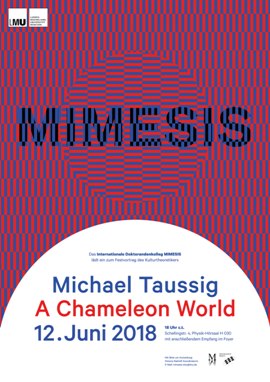 "So what is this tickling at the heels to which Kafka´s all too human ape would refer us all too apish humans to? I call it the mimetic faculty, the nature that culture uses to create second nature, the faculty to copy, imitate, make models, explore difference, yield into and become Other. The wonder of mimesis lies in the copy drawing the character and power of the original, to the point whereby the representation may even assume that character and that power." [Mimesis and Alterity, 1993]
Michael Taussig is Professor for Anthropology at Columbia University, New York, and one of the most prolific and provocative authors of contemporary cultural theory. In his lecture, he will engage with metamorphoses and mimesis that cross over plants, trees, rivers, swamps, animals, and humans; a chameleon world of shifting forms recalling shamanic worlds of ever changing spirit copies as duplicated by Colombian agribusiness violence today.
Please confirm your attendance to the reception by e-mail mimesis-doc@lmu.de
(German version below)
Festvortrag in englischer Sprache am 12. Juni 2018, 18 Uhr c.t., Physik-Hörsaal H 030, Schellingstr. 4
mit anschließendem Empfang im Foyer.
"Also, was kitzelt uns an der Ferse, was wollte Kafkas allzu menschlicher Affe uns allzu äffischen Menschen zeigen? Ich nenne es das mimetische Vermögen, die Natur, die die Kultur benutzt, um eine zweite Natur zu schaffen; das Vermögen, zu kopieren, nachzuahmen, Modelle hervorzubringen, Unterschiede auszumachen, Anderes zu erschaffen und selbst anders zu werden. Das Wunder der Mimesis liegt in der Kopie, die die Eigenschaft und die Kraft des Originals in dem Maße behält, daß die Darstellung selbst dessen Eigenschaft und Kraft übernehmen kann." [Mimesis und Alterität, 1993]
Michael Taussig ist Professor for Anthropology an der Columbia University, New York, und einer der produktivsten und provokantesten Autoren zeitgenössischer Kulturtheorie (mehr). Im Vortrag fragt er nach Metamorphosen, die Pflanzen, Tiere, Flüsse, Sümpfe sowie Menschen erfassen – eine Chamäleonwelt ständig sich wandelnder Formen, die an schamanische Vorstellungswelten erinnert.
Report
Michael Taussig Introduces his "Chameleon World"
In how far the confrontation of different forms of knowledge can be reified far away from field studies showed Michael Taussig in his keynote lecture on June 12, 2018, at the LMU Munich. The professor of anthropology at New York's Columbia University spoke passionately about his fascination for the poignant sound of the donkey cry. Not only did Taussig imitate and interpret this rather unusual object of investigation, he also established a dense network of analogies and similarities, and by that created unusual and surprising connections.
In a performative lecture, Taussig introduced his understanding of "A Chameleon World": To him, everything seems to be connected with everything via mimetic concatenations. In this way, Michael Taussig had no difficulty speaking of palm oil cultivation in rural Colombia and the chameleon-like camouflage of paramilitaries who enrich themselves with this petrochemical lubricant of our time, starting from the imitation of the donkey cry.
The Overall Connection through Mimetic Processes
With the joy of a scientist fascinated by his objects, Taussig insisted on the magic of the great connections between mimetic practices, language, images and politics that permeated "Chameleon World". Methodically, he refers to Walter Benjamin's concept of the mental image, a trickster-figure whose inherent linguistic magic he has dedicated himself to. It is precisely the fascinated adherence to childlike imitation and 'shamanic' linguistic magic that establishes Taussig's reputation as a controversial and innovative scientist.
On the following day, Michael Taussig continued this desire for reflection, characterized by flashes of inspiration and playful visualization, in a master class with doctoral students of the IDP MIMESIS, but without convincing all sceptics of his assemblage method, which is based on Deleuze and Guattari .
Bericht zur Veranstaltung
Der Chamäleon Effekt - Michael Taussig in München
Dass geisteswissenschaftliche Arbeit auch aus überschwänglichen Verknüpfungen disparater Gegenstände bestehen kann, bewies Michael Taussig in einem fulminanten Festvortrag im Rahmen des Internationalen Doktorandenkollegs MIMESIS an der LMU München.
Taussig stellt seine "Chameleon World" vor
Wie sich die Konfrontation von unterschiedlichen Wissensformen weit ab von Feldforschung konkretisiert, zeigte Michael Taussig in seinem Festvortrag am 12. Juni 2018 an der LMU München. Der Professor for Anthropology der New Yorker Columbia University sprach leidenschaftlich über seine Faszination für den eindringlichen Sound des Eselsschreis. Nicht nur imitierte und interpretierte Taussig diesen eher ungewöhnlichen Untersuchungsgegenstand; er knüpfte auch ein dichtes Netz aus Analogien und Ähnlichkeiten und stellte auf diese Weise ungewöhnliche und überraschende Verbindungen her.
In einer performativen Vortragspraxis führte Taussig in sein Verständnis einer "Chameleon World" ein: Für ihn scheint alles mit allem über mimetische Verkettungen zusammenzuhängen. Derart stellte es für Michael Taussig keine Schwierigkeit dar, von der Imitation des Eselsschreis ausgehend auf den Palmölanbau im ländlichen Kolumbien und die chamäleonartige Camouflage von Paramilitärs zu sprechen zu kommen, die sich an diesem petrochemischen Schmiermittel unserer Gegenwart bereichern.
Der große Zusammenhang durch mimetische Verkettung
Mit der Freude eines von seinen Gegenständen faszinierten Wissenschaftlers insistierte Taussig auf eben jener, die "Chameleon World" durchziehenden Magie der großen Zusammenhänge zwischen mimetischen Praktiken, Sprache, Bildern und Politik. Methodisch bezieht sich er dabei auf Walter Benjamins Begriff des Denkbilds, einer trickster-Figur, deren inhärenter Sprachmagie er sich verschrieben hat. Gerade das faszinierte Festhalten an kindlicher Imitation und 'schamanischer' Sprachmagie begründet Taussigs Ruf als streitbarer und innovativer Wissenschaftler.
Diese durch Geistesblitze und spielerische Vergegenwärtigung geprägte Lust am Nachdenken setzte Michael Taussig am darauffolgenden Tag in einer Masterclass mit Doktorandinnen und Doktoranden des IDK MIMESIS fort, ohne jedoch alle Skeptiker von seiner an Deleuze und Guattari anknüpfenden Assemblage-Methode zu überzeugen.
Christian H. Steinau
Downloads